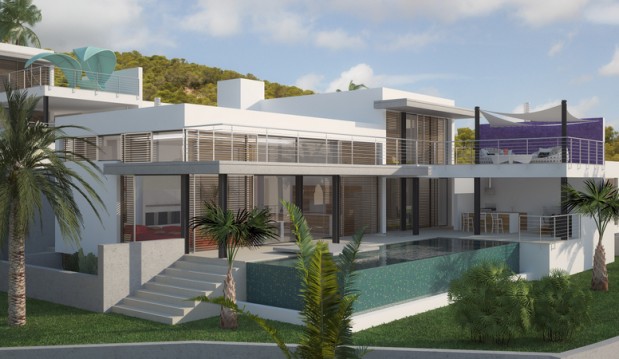 Villa "Black Dream" Vista Alegre
Floor size: 691 m2
Land surface: 1.245 m2
Number of bedrooms: 4
Number of bathrooms: 6
No. of storey: 3
Living and dining room: 1
No. of kitchens: 2
Garage: 3
Outdoor parking space: 2
Furnishings and fittings:
Floor-heating-system in the dwellings. All dwellings are additionally with climate to heat and cool equipped.
Outside and inside pool.
Sauna and gym.
Option lift.
Air conditioning: cooling and heating
House type:
Detached on the mountain.
Verry nice view to the sea, Porroig, Formentera and Salinas.
Miscellaneous:
"Vista Alegre" offers a supervised security with high comfort.
Plans download :
Plan UG house Download
Plan EG house Download
Plan OG house Download
Houses with Swiss quality!