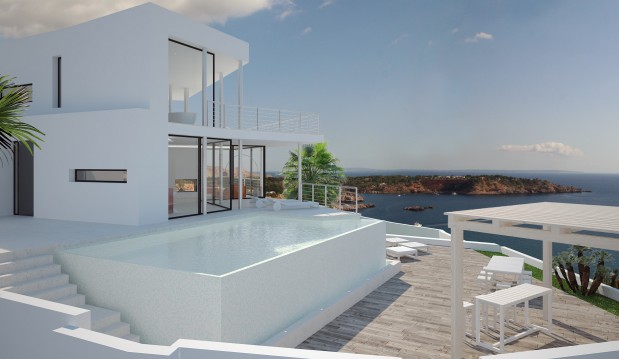 Villa "Bora" in Vista Alegre
Floor size: 275 m2
Land surface: 620 m2
Number of bedrooms: 3
Number of bathrooms: 4
No. of storey: 2
Living and dining room: 1
No. of kitchens: 1 and 1 outside
Garage: 1
Property description:
In the ground floor are 2 bedrooms (option 1 more), 3 baths, kitchen, salon and living room.
Big terraces, barbeque and pool.
In the 1. upper floor are 1 bedroom, 1 bath, kitchen and big terrace.
Furnishings and fittings:
Own pool and a big community pool. Floor heating and clima
House type:
Detached house.
Verry nice view to the sea, Porroig, Formentera and Salinas.
Miscellaneous:
"Vista Alegre" offers a supervised security with high comfort.